From Associate's to Bachelor's
Alvin Community College classes are now available at University of Houston Clear Lake at Pearland. You can complete an ACC Associate degree in General Studies, Psychology, or Computer Information Technology and make a smooth transition into the University of Houston-Clear Lake's baccalaureate programs.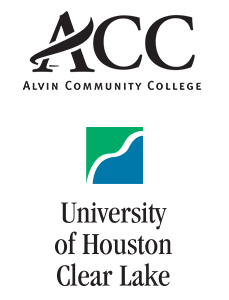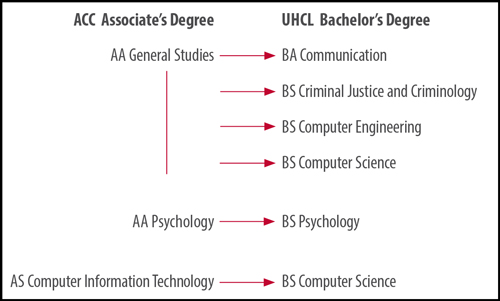 ---

Attend workshops for admissions, financial aid,and scholarships.

Apply and save with a free application.
Receive an on-the-spot admissions decision!
Tour our campus including the new Health Sciences and Classroom building.
Learn about academic programs.
Meet our knowledgeable faculty and advisers.
---

Spring 2020 Classes Begin January, 13, 2020
View/download a print friendly version
Course No.
Course Name
Day
Time
ARTS 1301
Art Appreciation
M/W
11:30AM-12:50PM
BIOL 2402
Anatomy and Physiology II
M/W

LEC: 09:30AM-10:50AM
LAB: 11:00AM-12:20PM

CHEM 1405
Introductory Chemistry
M/W

LEC: 01:30PM-02:50PM

LAB: 03:00PM-04:20PM

EDUC 1301
Intro to Teaching Profession
T
06:00PM-08:50PM
ENGL 1301
Composition I
T/TH
08:30AM-09:50AM
ENGL 1302
Composition II
T/TH
11:30AM-12:50PM
GEOL 1405
Environmental Science
M/W

LEC: 06:00PM-07:20PM

LAB: 07:30PM-08:50PM

GOVT 2306
Texas Government
T/TH
10:00AM-11:20AM
HIST 1302
United States History
T/TH
10:00AM-11:20AM
MATH 1314
College Algebra
M/W
08:30AM-09:50AM
MATH 1332
Quantitative Reasoning
W
06:00PM-08:50PM
MUSI 1306
Music Appreciation
M/W
11:30AM-12:50PM
PHIL 2306
Introduction to Ethics
W

06:00PM-08:50PM

SPCH 1315
Public Speaking
TH

06:00PM-08:50PM
---
All classes are held at UHCL Pearland

University of Houston-Clear Lake at Pearland
1200 Pearland Pkwy
Pearland, TX 77581