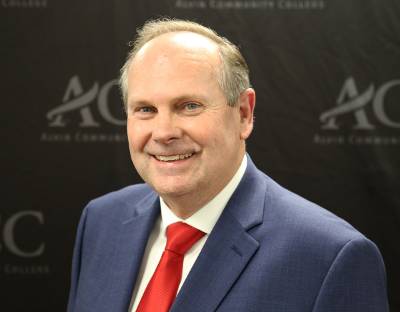 Dr. Robert J. Exley was named the 7th president of Alvin Community College in 2021. Prior to coming to ACC, Dr. Exley served as President of Snead State Community College in Boaz, Ala. from 2008 to 2020. Prior to his time in Alabama, he served as President of Parkland College in Champaign, Ill., and as the Vice President for Academic Affairs at Iowa Western Community College in Council Bluffs, Iowa.
Dr. Exley has deep Texas roots. He received his Associate of Arts degree from San Jacinto College in Pasadena, Texas, his BA and MS from the University of Houston-Clear Lake, and his Ph.D. from The University of Texas at Austin.
In May 2007, Dr. Exley was named a Distinguished Graduate of the University of Texas at Austin's Community College Leadership Program in recognition of his national contribution to American Community Colleges.
Dr. Exley also serves as a committee chair and/or member of both off-site and on-site evaluation committees for the Southern Association of Colleges and Schools Commission on Colleges (SACSCOC).
He also currently serves as a member of the National Junior College Athletic Association Board of Regents, the NJCAA Presidents Advisory Committee and as President of the Alabama Community College Conference's Executive Committee.