Musical Theatre - A.A. Degree
Realize Your Dreams
Do you dream of performing on Broadway? Do you love dancing and singing? Do you want to turn your passion into a career? Then come to ACC to Realize Your Dreams!
The Musical Theatre faculty are professionally active singers/actors and educators who care for students as individuals. The degree is comprised of courses from the Music and Drama departments. These faculty work together to prepare students for careers in musical theatre by focusing on individual needs and career goals. Our small class sizes provide more personalized instruction and enable students to strive for excellence as they prepare to transfer to a four-year university or enter the industry.
As a Musical Theatre student, you'll have the opportunity to perform in any of the five plays ACC produces each theatre season. Past seasons have included plays, musicals, and children's shows such as Little Shop of Horrors, The Haunting of Hill House, The Reluctant Dragon, A Christmas Carol,and many others.
You'll enjoy working and performing in one of the best theatre facilities available in the Gulf Coast region. ACC's theatre is a 349 seat proscenium with a full stage house, fully computerized lights and sound, four flying electrics, two lighting catwalks over the house, two full-sized dressing rooms, fully equipped scene shop, costume shop, box office, green room, and a "diner."
ACC Theatre productions are also open to community volunteers! Everyone of all experience levels are encouraged to participate, both by auditioning and volunteering backstage.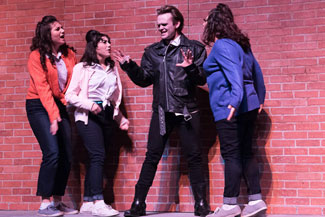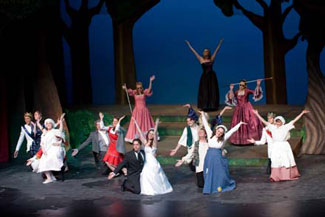 Career Opportunities
Performance - stage and film acting; dancing; singing
Education - performing arts education
Music Composition - singer songwriter; writing for ensembles; radio/television/film composing
Business - marketing; producing for stage, film, and television; arts management
Health Professional – drama therapy, music therapy
Directing - choreographer; director for stage, film, and television; musical director for stage, film, and television
According to the Bureau of Labor Statistics, the job outlook for entertainment occupations is expected to grow by 22% through 2030, which is higher than the average for all occupations. In 2020, the median hourly wage for actors was $21.88, and for musicians and singers it was $31.40.
What Will I Study?
The Musical Theatre Program offers fully transferable courses for majors and non-majors including:
Private voice lessons
Acting
Stage Makeup
Stagecraft & Technical Theatre
Script Analysis
Voice for the Theatre
DOWNLOAD A PRINTABLE CURRICULUM GUIDE
MUSICAL THEATRE
ASSOCIATE OF ARTS (A.A.)


60 credit hours

FIRST YEAR - FIRST SEMESTER
CREDITS

ΔDRAM 1120 - Theatre Practicum I

1

Δ+DRAM 1351 - Acting I

3

+ENGL 1301 - Composition I

3

+MATH 1332 - Quantitative Reasoning

3

MUAP 1269 - Applied Music: Piano

2

MUAP 1281 - Applied Music: Voice

2
SECOND SEMESTER

ΔDRAM 1121 - Theatre Practicum II

1

DRAM 1341 - Stage Makeup

3

+ENGL 1302 - Composition II

3

MUAP 1270 - Applied Music: Piano

2

MUAP 1282 - Applied Music: Voice

2

RMUEN 1159 - Vocal Ensemble (Musical Theatre I)

1

+PSYC 1300 - Learning Framework

3
THIRD SEMESTER

+GOVT 2305 - Federal Government

3

+Select from Social & Behavioral Sciences Core Curriculum (PSYC 2301 or SOCI 1301 recommended)

6
SECOND YEAR - FIRST SEMESTER

+Select from American History Core Curriculum

3

ΔDRAM 1310 - Theatre Appreciation

3

ΔDRAM 2120 - Theatre Practicum III

1

ΔDRAM 2355 - Script Analysis

3

MUAP 2281 - Applied Music: Voice

2
SECOND SEMESTER

+Select from American History Core Curriculum

3

ΔDRAM 1330 - Stagecraft I

3

ΔDRAM 2121 - Theatre Practicum IV

1

ΔDRAM 2336 - Voice for the Actor

3

MUAP 2282 - Applied Music: Voice

2

RMUEN 2159 - Vocal Ensemble (Musical Theatre II)

1
MUSICAL THEATRE (A.A.) DEGREE – CREDIT HOURS
60
+Denotes core requirement. Speak with Department Chair or Academic Advisor for proper course selection.
R May be repeated for credit.
Note: Drama courses required for the musical theatre degree are offered on a two-year cycle. Please contact the department chair to plan your schedule.
*How Much Will the Program Cost?
Approximate costs including tuition and fees are approximately $4,200 for in-district students, $6,960 for students out-of-district, and $9,840 for non-residents. Additional fees for books and supplies may vary. Scholarships are available and can waive out-of-district fees.
For more information on education costs, payment options, payment plans, deadlines and more, visit our Tuition and Fees section.
Financial assistance is available for those who qualify. For more information, visit our Financial Aid section.
*Alvin Community College may change tuition rates and other fees without notice or when so directed by the Board of Regents.
Scholarships are available for musical theatre majors and non-majors by audition. Typical awards for music majors are $1000 per year which waives out-of-district fees. Non-music majors can receive up to $100 for performing in an ensemble.
For more information regarding scholarships, please visit the Academic Workswebsite.

COLLEGE & CAREER PATHWAYS
Music is part of our Liberal Arts Career Pathway. Click the box below to see other Liberal Arts programs that may interest you.