University Transfer Pathways
Houston GuidedPathways to Success
Seamless transfers, on-time graduation, less debt.
These are the goals of Houston Guided Pathways to Success (or Houston GPS).
ALVIN COMMUNITY COLLEGE is a proud Houston GPS partner and committed to supporting students as they transition from community college classrooms to a university campus … and ultimately, graduate with bachelor's degree in hand.
ACC works closely with the region's top institutions of higher education to ensure students can successfully transfer and remain on a trajectory toward graduation.
Through Houston GPS, transfer students are supported by:
Proactive advising to help students navigate pathways between two and four-year institutions.
Degree maps that outline transferrable classes for specific degree plans and guide students from their first day at a community college until they complete their bachelor's degrees.
Structured schedules offering students consistent schedules relative to their respective degrees and to better serve working students.
Technology that tracks student progress in real time to provide a coordinated network of support.


Colleges and universities participating in Houston GPS include Alvin Community College, College of the Mainland, Galveston College, Houston Community College, Lone Star College, San Jacinto College, Wharton County College, Prairie View A&M University, University of Houston, University of Houston-Clear Lake, University of Houston-Downtown, University of Houston-Victoria and Texas Southern University.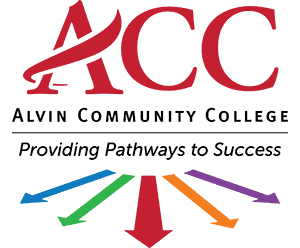 Does your path to success lead to transferring to a university to earn your Bachelor's degree? If so, Alvin Community College is here to travel the path with you. This page is dedicated to providing you with information to help you transfer seamlessly by way of our University Transfer Pathway Agreements with partnering universities. Contact an ACC Advisor or the College and Career Pathways center for assistance.
ACC University Transfer Pathway Agreements


Click a column header to sort:
Additional Articulation Agreements: