Sports & Human Performance - A.A. Degree
Help Yourself and Others Live Healthy Lifestyles
ACC's Sports and Human Performance program reflects the growing national interest in prevention of disease through achievement of optimal health and physical fitness. Our mission is to prepare you with knowledge and skills to excel in making smart decisions concerning healthy lifestyle choices. The program will provide you with the knowledge and skills to function effectively as a health educator, who designs, implements, manages and evaluates health promotion and wellness programs in diverse settings such as the workplace, schools, hospitals and the community.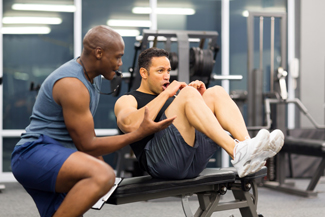 Career Opportunities
ACC Sports and Human Performance graduates leave prepared to instruct or coach groups or individuals in the fundamentals of sports as well as demonstrate techniques and methods of participation. Graduates typically work in the health, corporate, community, or commercial fitness professions.
Athletic Trainer
Camp Director
Coach
Fitness Trainer
Health Educator
Physical Education Teacher
Recreation Manager
Referee
According to the Bureau of Labor Statistics the median annual wage for fitness trainers and instructors was over $39,000 in 2017. For more information on career opportunities in Sports and Human Performance, please visit Career Coach where you can explore the local job market, take a career assessment, and build a resumé.
What Will I Study?
The program will provide skill development in multiple physical activities, an understanding of coaching roles, teach first aid practices, and review current trends and issues in drug use and abuse.
DOWNLOAD A PRINTABLE CURRICULUM GUIDE
SPORTS AND HUMAN PERFORMANCE
ASSOCIATE OF ARTS (A.A.)


60 credit hours

FIRST YEAR - FIRST SEMESTER
CREDITS

+Select from Creative Arts Core Curriculum

3

+ENGL 1301 - Composition I

3

+HIST 1301 - United States History I

3

PHED 1301 - Foundations of Kinesiology

3

ΔPHED 1346 - Drug Use and Abuse

3

SECOND SEMESTER

ΔBIOL 1322 - Nutrition and Diet Therapy

3

+ENGL 1302 - Composition II

3

+HIST 1302 - United States History II

3

+MATH 1314 - College Algebra

3

PHED 1304 - Health & Wellness

3
SECOND YEAR - FIRST SEMESTER

+BIOL 1406 - Biology for Science Majors I or
Δ+BIOL 2401 - Anatomy and Physiology I

4

+COMM 1307 - Mass Communications

3

+GOVT 2305 - Federal Government

3

CSelect Physical Activity Course

1

CSelect Physical Activity Course

1

Δ+PSYC 2301 - General Psychology or
+SOCI 1301 - Introduction to Sociology

3
SECOND SEMESTER

+BIOL 1407 - Biology for Science Majors II or
Δ+BIOL 2402 - Anatomy and Physiology II

4

+GOVT 2306 - Texas Government

3

PHED 1306 - First Aid

3

CSelect Physical Activity Course

1

CSelect Physical Activity Course

1

+SPCH 1315 - Public Speaking

3
SPORTS & HUMAN PERFORMANCE (A.S.) DEGREE – CREDIT HOURS
60
+Denotes core requirement. Speak with Department Chair or Academic Advisor for proper course selection.
CStudents planning to transfer to a university baccalaureate degree are strongly encouraged to visit with their advisor prior to selecting electives.

ΔPath 1: FOS Health & Wellness - PHED 1304, PHED 1346, BIOL 1322, BIOL 2401, BIOL 2402, PSYC 2301
Path 2: Follow Curriculum Outline for Sport and Human Performance
*How Much Will the Program Cost?
Approximate yearly costs for the Sports and Human Performance A.A. Degree program including tuition and fees are $4,200 for in-district students, $6,960 for students out-of-district, and $9,840 for non-residents.
For more information on education costs, payment options, payment plans, deadlines and more, visit our Tuition and Fees section.
Financial assistance is available for those who qualify. For more information, visit our Financial Aid section.
*Alvin Community College may change tuition rates and other fees without notice or when so directed by the Board of Regents.
---

COLLEGE & CAREER PATHWAYS
Sports and Human Performance is part of our Health Career Pathway. Click the box below to see other Health programs that may interest you.