An Aspen Prize Top 150 College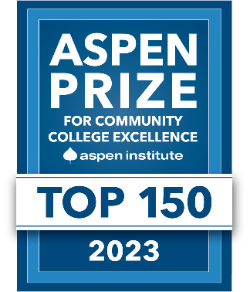 Alvin Community College has once again been listed in the top 150 community colleges in America as ranked by the Aspen Institute for 2023.
ACC received the distinction among more than 1,000 community colleges in the United States. The Aspen Institute also ranked ACC in the top community colleges in 2011, 2013, 2015, 2019 and 2021. Colleges are nominated every other year.
"The Aspen Prize honors colleges with outstanding achievement in five critical areas: teaching and learning, certificate and degree completion, transfer and bachelor's attainment, workforce success, and equity for students of color and students from low-income backgrounds," ACC President Dr. Robert J. Exley said. "This ranking demonstrates our deep and continuing commitment to success for all students."
The Aspen Institute is a non-profit organization that works to identify and replicate campus-wide practices that significantly improve college student outcomes.
"I speak for all the ACC Regents when I say that we are elated that we are once again recognized as part of such an elite group," Board of Regents Chair 'Bel Sanchez said. "We are so proud of our faculty, administration and staff because they are the reason we find ourselves here for the sixth time. ACC continues to accomplish so much with limited resources: our recent perfect score for accreditation, our great Nursing pass rates, our excellent rate of successful transfers to four year schools, our successful Process Technology program grads and on and on. We are one of the best community colleges In Texas."
The purpose of the Aspen Prize is to recognize community colleges with outstanding academic and workforce outcomes in both absolute performance and improvements over time. The institute selected Alvin Community College based on student success in retention and completion, performance improvement, and performance of underrepresented minorities and institutions in low-income service areas.
Some of the data used in determining the top 150 status are first-year retention rates, three-year graduation and transfer rates as well as the number of certificates and degrees awarded per 100 full-time equivalent students. Other measures included data related to underrepresented minorities.
The data for the ranking was analyzed by policy experts, researchers, data analysts and former college presidents.
ACC is now eligible for the $1 million Aspen Prize, which is awarded to the top community college in the country. The college will be judged on data that includes completion outcomes, labor market outcomes, learning outcomes and equity outcomes.
To learn more about the Aspen Institute, visit aspeninstitute.org.