Drama - Theatre Facilities
Theatre Facilities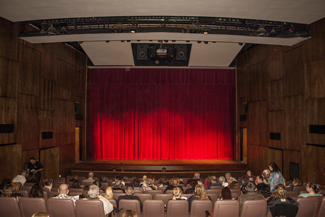 The Alvin Community College Department of Drama has some of the best theatre facilities available in the Gulf Coast area. Our theatre is a 349 seat proscenium, with a full stage house and 27 recently refurbished line sets, including four flying electrics. These electrics are supplemented by two lighting catwalks over the audience, electronic dimmers, and a computerized control board. Also, the sound system is fully computerized and features a control console with full memory presets and full digital sound editing capabilities.
Backstage are two full-size dressing rooms, an eight-station makeup room, a green room, a "diner," and a fully equipped scene shop.
The ACC Drama facilities are rounded out by a complete costume shop and storage area as well as property storage areas. The Box Office in the spacious, newly renovated lobby is equipped with a computerized ticketing system.

COLLEGE & CAREER PATHWAYS
Drama is part of our Liberal Arts Career Pathway. Click the box below to see other Liberal Arts programs that may interest you.